DYMOND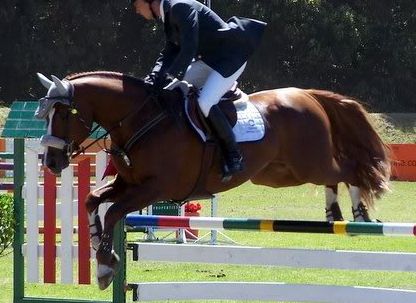 1998 Chestnut Hanoverian Mare
Competing in Show Jumping



from noel Dymond is a mare that came to us by surprise. We had never intended to add warmbloods to our facility, but whoa and behold here she is. This mare came to us interestingly. White Oleander Farm decided to participate in a game that Monarchy, Inc. holds called Pick A Box. There you are given the option to choose a box from 1-15, and we chose number 8 I believe. Dymond was waiting for us and we were awarded her. She came to us unnamed, unshown, but very well trained. We are excited about this mare being added to our show string as we believe she was bred & built to be a show horse. Her sired, Donnerhall, is a dressage legend. He is actually a Hall Of Fame horse, and is greatly respected world wide. This mare was obvisouly bred for dressage, but we've decided to take her in a different direction, she is strictly a show jumper/hunter.









Donnerhall

Donnerwetter
Disput
Melli
Ninette
Markus
Negola

Wolke

Wendekreis
Ferdinand
Domgoettin
Gaenseliesel
Grande
Marbel
Progeny
Bruuno WF, '01 Chestnut Hanoveian Stallion Sired by Brutus II
Beaumont WF, '03 Chestnut Hanoverian Stallion Sired by Brutus II
Dream Dymonds WF, '02 Grey Hanoverian Mare Sired by Dream Chinook
Reemond WF, '05 Chestnut Hanoverian Stallion Sired by Remmington
Dymond in the Rough S, '07 Chestnut Arabian Warmblood Mare Sired by BT Budzislaw
Show Record
- 0 AHEJC POINTS ll AHEJC UNTITLED